(FROM WHERE I SIT)—Good Lord, the papers have sprouted feet and are taking over because they want to be recycled. This latest rebellion is underway because I've been holding things up for way too long.  But I persist, because the end results will be worth it.
Gratefully ditching clothes that didn't bring me joy wasn't nearly as hard as getting rid of these clingy papers. It's been a trudge. Kinda-sorta. Deciding what to keep and what to toss wasn't that difficult. Now, there's so much stuff to shred. If only the pile could rip itself to pieces. Yesterday. But as it's taken me years to accumulate all this shite, it'll take at least a smidgen of time to get this foolishness back under control.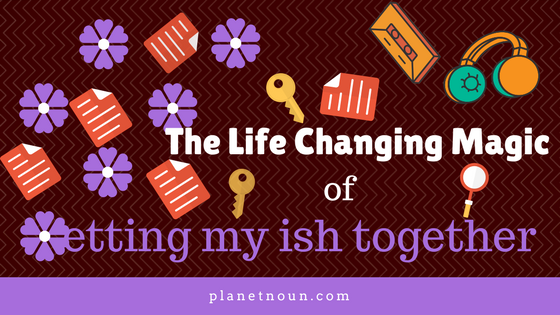 Such a slow roll. But shredder wheels keep on turning, proud Lizzy keep on burning. I'm encouraged to don't stop, get-it get-it because there'll be time enough for resting when the shredding's done.
Part of my KonMarie possessions laxative includes purging through all papers and only keeping the ones that bring joy. Of course, as The Life Changing Magic of Tidying Up says there are always very necessary papers that must stay, no matter how much they dull the senses. Necessary is necessary.
Some paper goods I've considered for the rubbish pile: Treats from students during my teaching days. Every now and then, parents and students blessed me with holiday gifts: Things like a journal, a tile decorated with a little boy's artwork, a Christmas card made from construction paper, a sporty skirt and top that I wore for a long while before I gave them away. Of all those kind treasures, I still have the journal and use it to jot down recipes. I also have the decorated tile, homemade card, and a different skirt that I still wear during the fall and winter months.
These things still bring me joy. Even the oversized construction-paper card with first-grader penmanship wishing me a Merry Christmas.  I'll keep them until I can't keep 'em anymore. Some bring back such wonderful memories. And I'll treasure them… …. …… …….. .. . always.
there are always very necessary papers that must stay, no matter how much they dull the senses.
Click To Tweet
Now, back to the other papers. Part of me wants to find a beach bonfire and introduce them to the flames. Another part of me wants to bake them to a crisp inside the stove, crumble them and use them to fertilize some plant. All of me wants them gone.
Inch by inch, it's a cinch. That's what keeps me from tossing everything out the window. That, and not wanting to catch a littering charge.
Please follow and like Planet Noun: