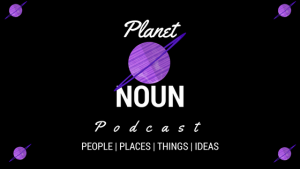 Ms. Liz decided, without much fanfare, that she had had enough of talking about starting a blog and a podcast, and decided to just do it because the main things that keep changing are time and the amount of gray hairs sprouting through her scalp.
First came the blog. One slow post at a time. Then came the podcast.
She talks to some interesting folks as an editor and reporter at work. However when she does, Liz always records way too much tape than she'll ever need for the super-succinct on-air stories. So she decided to do a little more with the tape as well as primarily pursue interviews exclusively for Planet Noun.
Bloggers are usually advised to narrow down their work or an online site to to a niche. For example, books, movies and entertainment. Food, cheese, wine. Music. Home improvement. It seems to break a rule of blogging and podcasting to not have a specific niche.
So as a journalist, she decided to narrow things down to her favorite part of speech: Nouns.
People, Places, Things, Ideas.
Planet Noun is that simple.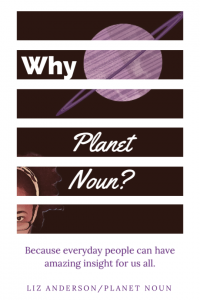 From books, to television and movies, the occasional theater jaunt, the latest game-changing/innovative app and more. Maybe you'll hear a few Thoughts and Tales from Ms. Liz, including sprinkles from her life as a teacher, aunt, friend, significant other, and maybe about some of her sweaty or finger-numbing adventures as a reporter.
And of course, on the Planet Noun podcast where it's all about the People, Places, Things and Ideas that teach us, prompt us to make a difference and do more with what life presents.
Hey—feel free to leave a comment and share, and follow Planet Noun on Facebook, Instagram, Twitter, and YouTube. She might even start using SnapChat one day.
Thanks for coming along on this ride!
A quick note: There are many links throughout this website…some of them lead to products for sale on Amazon.  FYI:  As an amazon associate I earn from qualifying purchases.