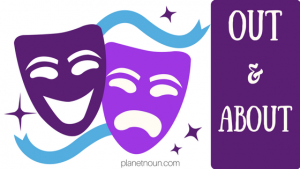 A one person play. Haven't been to very many of these, and was a tad skeptical after accepting an opening night invitation to a production about the late Supreme Court Justice Thurgood Marshall.
How in the world would a one-man play keep my attention for 90 minutes? I doubted it was possible. But I was open to the idea, else I wouldn't have left home for Olney Theatre Center as the rain fell that evening.
Curiosity is what drove me through that rainfall.  I wanted to see if I'd learn a little something-something new about the first black United States Supreme Court Justice. I had never seen a play about Thurgood Marshall. Never read a book about him either. Never have really done much study about him aside from Brown v. Board of education section in history books, and an occasional browsing of the Internet. Outside of that, my knowledge about this legal icon of the civil rights movement was paltry.
Didn't know his first name was Thoroughgood before he shortened it to Thurgood.
Didn't know he was married two times. Didn't know his first wife died of cancer at age 44. Didn't know they dealt with a few miscarriages.
I did know he went to Howard University because the University of Maryland law school didn't admit tax-paying black folks because of their blackness. In place, ostensibly, was a separate but (not) equal facility for training black lawyers. Some tried to pass it off as good enough.
But it wasn't. And Thurgood Marshall became a force of intention to change that by using the law as a weapon to achieve actual equal justice under the law instead of some oppressive, inequitable, pseudo-facsimile. After all, those words "Equal Justice Under Law" were (and still are) engraved into the front of the Supreme Court building.
The theater was cozy and intimate, and the actor who portrayed Marshall, Brian Anthony Wilson, managed to pull in this one-man-play doubter and convince her that even her (my) attention could be held for 90 minutes with one man talking the whole time.
And Justice Marshall's theatrical mouthpiece reeled me in from start to finish. First he's as an older gentleman, slightly lumbering and leaning on a cane, then memories spring forth along with a more animated, agile gait in tandem with lively words, Wilson-as-Marshall leads a trip back in time to his younger years.
Childhood in Baltimore.
College days.
Rejection by the University of Maryland School of Law.
Howard University Law days.
The footwork required to build what would become Brown v. Board of Education case.
Marriage and sacrifices.
His first wife's death.
His second marriage and children.
Supreme Court appointment.
That's a sketch of what the play covers in 90 minutes. However, there are so many events, solemn and defining moments, and slathers of good humor in between those lines. And a reminder, in my mind, that while the law can intentionally be used as a weapon to bring about justice for all, it can also be wielded, depending on the benched interpreter, as a weapon to roll back the march toward justice for all.
I hate to end on that depressing note, so I'll end with a surprise:
As I left a post-play reception, I opened the doors on my way out of the main theater building.  Two people were also opening the doors in the opposite direction.
Well, whaddya know? One of them was "Thurgood!" Or Brian Anthony Wilson. And he consented to a selfie! 🙂
Check it out Thurgood at Only Theatre Center!
By: George Stevens, Jr.
Directed by:  Walter Dallas
July 19-August 20
Tickets: $55-$70. (Prices depend on selected day/time.)
Please follow and like Planet Noun: